CENTURION SERIES DROID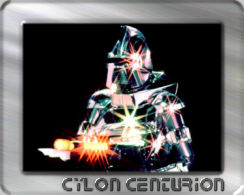 Warriors of the Cylon Empire, the Centurion is a ruthless killing machine - polished armor over a reinforced chassis that's resistant to many caliber of weapons, including most hand held EM projectile launchers and light plasma weapons.
Centurions are charged with the task of fighting both ground campaigns, fighter combat and the maintenance of Cylon command vessels.
Average combat Cylons are capable of scanning in a wide range of electromagnetic frequencies, have super strength and are very well armed. Cylon Centurion makes up the backbone of the Cylon Empire's military force and while capable of intelligent thought their mental processes are purposely limited, so the Imperious Leader and other IL series droids can maintain control of the masses.
Centurions are divided into two groups, command and subordinate, the command droid's position denoted by it's gold colored armor plating rather than the typical silver plating found on normal Centurions. Typical Cylons Centurions are armed with powerful pulse rifles that are much more powerful than the laser blasters used by Colonial warriors. Centurions are powered by nuclear fusion, though their power cells can also process oxygen and hydrogen gas and burns those gasses for fuel. This is the primary reason behind Cylon warships being pressurized.